I arrived at San Diego airport at 1:20pm on Wednesday afternoon with Maggie. I checked two bags and had two carry on bags, one with my laptop and the other with a fragile piece of computer equipment. "Have you got any fragile stickers?" I asked the lady behind the counter. "No. We should have but we don't." I thought nothing of it thinking I could be careful with the item.
Maggie and I went our separate ways, for now. She will come to Dublin for two weeks in April, so I expect to see her in three weeks or so. Still, it was hard to walk away
I passed through security with ease and sat down at the departure gate and waited for boarding. The guy behind me was from Dublin. I could tell from the accent, lots of 'd'ya know what I mean?' and 'deadly!' at the end of every sentence. He was talking to another gentleman about a conference they had been at for the week. The guy from Dublin said something about DB/2 databases, and system administration and a third party company who was making a bundle of money out of add-ons to DB/2 software. I moved to another seat.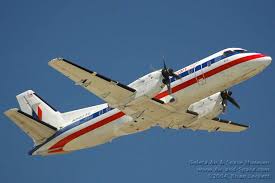 The American eagle flight took about thirty minutes of actual flying time. I was annoyed because the flight attendant wouldn't let me carry on one of my bags, the one with the fragile item, so I asked if he had any fragile stickers or labels and he didn't. I had to bring the bag back down the steps of the plane and hand it two the guy who loads it into the cargo-hold. I asked him to take care of it because it was fragile. He gave me a blank look and took the bag and tossed it onto the cart. I was worried about the condition of the items. My view of American Eagle is now similar to that of Ryan Air; low to digging in the dirt.
My flight with Aer Lingus was smooth. No issues with security or departure times. I arrived back in Dublin at 11:00am on Thursday morning. The flight was a little early and we couldn't pull into our gate because there was a plane getting ready for departure. So we sat on the tarmac for about five minutes.
I'm not one to jump out of my seat when the plane arrives, I'm happy to wait and let people who have connecting flights leave before me. I was the same this time, but I was eager for the plane to get to its parking space. Just sitting on the tarmac bothered me.
Lovely morning in Dublin, the sun was shining with a nice breeze, which was nice.
My bags came out fairly quickly, I had just arrived at the belt so I grabbed them and put them on a trolley. I made my way out to the arrivals hall. I knew my sis-in-law was going to pick me up along with my nephew's and nieces. I walked out expecting to hear them. Nothing. I scanned the crowd of people looking in my direction. Nothing. 'Must be late', I thought. Not to worry, I can wait. I walked by the crowd and then noticed a group of people standing at the barrier with banners. How they missed me arriving and how I missed them when I walked out I'll never know. Anyway they were delighted to see me and I was ecstatic to see them.
NEXT: Did the fragile item make it in one piece?