Thursday evening I was talking to my brother,
Brother: Try to get home early tomorrow.
Me: Why?
Brother: For the concert
Me: Bemused. What concert?
Brother: Bruce Springsteen.
Bruce Springsteen! A week or so ago I got a text message from a mate saying 'hve a spre bruce tkt if u wnt it'
I replied 'sure'. I thought at the time that the concert was in late November and if I were unable to go then my mate would be able to find someone else without any difficulty.
So imagine my surprise when I was told that the concert was in approximately 12 hours.
Work on Friday was fun, and the day passed quickly.
I've been a fan of Springsteen for as long as I can remember, however I've never seen him live, unless watching him live on DVD counts. I didn't think so either. Anyway, this injustice was going to be put right on Friday 17 November 2006 by hook or by crook, (I'll come back to the crook bit later).
I arranged to meet my brother, his wife, and their pals in the Elephant & Castle in Dublin's Temple bar, for some food before the event. A specific time was not discussed, just sometime between six and six-thirty in the evening.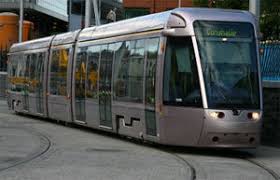 I decided to drive down to the Luas station in Sandyford and leave my car over night collecting it on Saturday. The parking at the Luas station in Sandyford works like this:
Park your car, look at the number on the ground where you've parked, walk to the light-train stop, go up to the ticked machine, enter in your bay number, pay the 4 euro, take your ticket and move on to the next booth to purchase a ticket for the train.
I didn't have enough loose change to purchase a one-way ticket to Dublin city centre; the only notes and I had was a fifty-euro note. I decided to use my Laser card (debit) to purchase the ticket. I picked the ticket I wanted, put my card in and the system didn't accept my card. I tried again, same deal.
The Luas is a frequent light-rail system that has been in operation for approximately one year in Dublin. It's a much-needed system, but a lot of work remains to be done to provide a decent transport system for a busy capital city like Dublin. Anyway, a train leaves every 8 minutes or so and by now I had missed one train.
Did I mention that it was really cold at the station? My fingers were beginning to freeze, the wind chill was awful and I was regretting not wearing gloves and scarf.
I tried once more, same deal. I took my card and dashed across to the other side of the track where there is another machine, guess what, same deal and almost immediately another crowd was beginning to gather. The frustrating thing was that I had cash, just too much of it. The machine won't accept a 50-euro note. I had loose change, just not enough of it. I was about one euro short and time was moving on.
Another train left and I wasn't on it. So I made a decision based on a past experience.
The past experience:
When Andrea was visiting in August we drove down to the Luas station parked etc etc. We purchased two tickets to go into town. My brother phoned to ask me something, told me that he was close by and that he'd give Andrea and I a lift into town. We accepted the offer of the lift, because he would bring us directly to our location, Croke Park GAA stadium. So we decided to give our tickets to someone at the station. We eventually found two people who were genuinely happy to accept our tickets and even offered to pay for them, we wouldn't hear of it and we walked off to get our lift.
(the crook bit). I'm not proud of this. I decided to purchase a one-way child ticket to the city centre and see what would happen with the ticket checker dude, if he were even going to be on the train. My decision was to make some sort of financial contribution to the Luas operators and not to just hop on without any ticket.
The whole of the 22-minute journey to the city centre was a nervous time for me. I was getting text messages asking 'where are u?' I responded and asked what time the concert was. A text came back '7.30', so I was going to be under pressure to get in to the restaurant with enough time to actually eat and I was on the train with a ticket for a child!
I was fortunate that there was no inspector on duty and I was really happy when the Luas arrived to the city centre.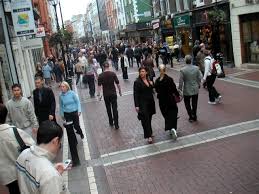 I dashed down Grafton Street and made my way to the restaurant and went in. The four others were there. I expected to see a lot of empty plates and satisfied grins on faces from eating well. Instead I saw my brother take off his jacket. They had just arrived. I had assumed that they had been all together while I was freezing while committing Luas ticket fraud. They had just ordered food too, so I was able to make my order. I felt more relaxed.
I told my sister-in-law about my Luas adventure, and she thought it was funny because my brother and sister-in-law had the same experience on the other Luas line that runs from the other side of the city. Same deal, freezing cold, machine not accepting cards, or notes larger than 20 euro and neither of them had enough loose change. They just jumped on and hoped for the best.
The concert was FANTASTIC. The Boss played for two hours and forty minutes without stopping. He reworked some of his own material to folk music. I was incredible to listen to 'Open All Night' with a twenty minute folk music instrumental.
After the concert we made our way back up to Ringsend to get a taxi. More freezing cold wind that even made my teeth hurt.
We all met up with some other friend and went for drinks. Some Guinness later and heading for home we decided to a late bar for a drink. This was the funniest part of the night. I've decided that I have to take Andrea to it when she comes over because to my mind it's a Cultural Anthropologists dream laboratory.
That comes in part two.